Non-Laser Tattoo Removal In Wheeling, WV and Bridgeport, OH
Using a patented technique called trans epidermal pigment release, Tatt2Away starts with small circles on the skin over the existing unwanted tattoo. A proprietary solution is then introduced and interacts with the ink, lifting it to the surface. The total timeline for removal is comparable to laser.

Tatt2Away is "color blind." It removes all colors, including the most exotic hues and pigment blends!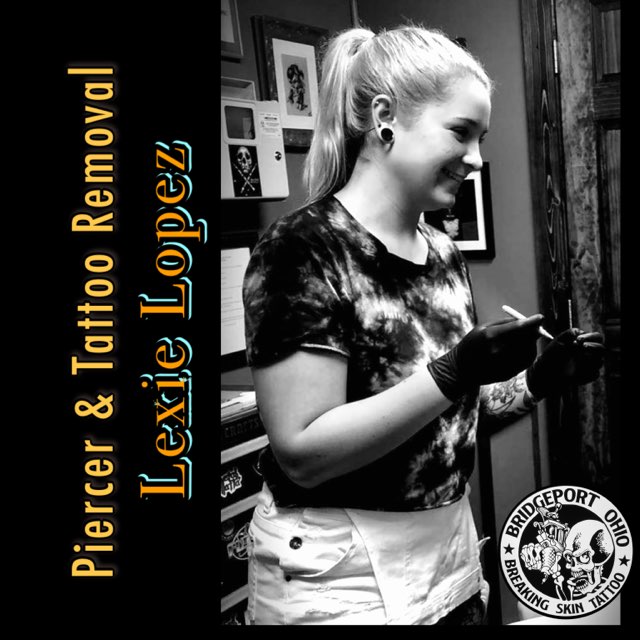 Traditional coverups have to be larger and darker. With Tatt2Revise, there is no need to compromise on getting the art you want! By selectively removing some or all of your old tattoo, you can revise your body art into something new. That can mean correcting mistakes, updating styles, or finally getting the tattoo you wanted in the first place!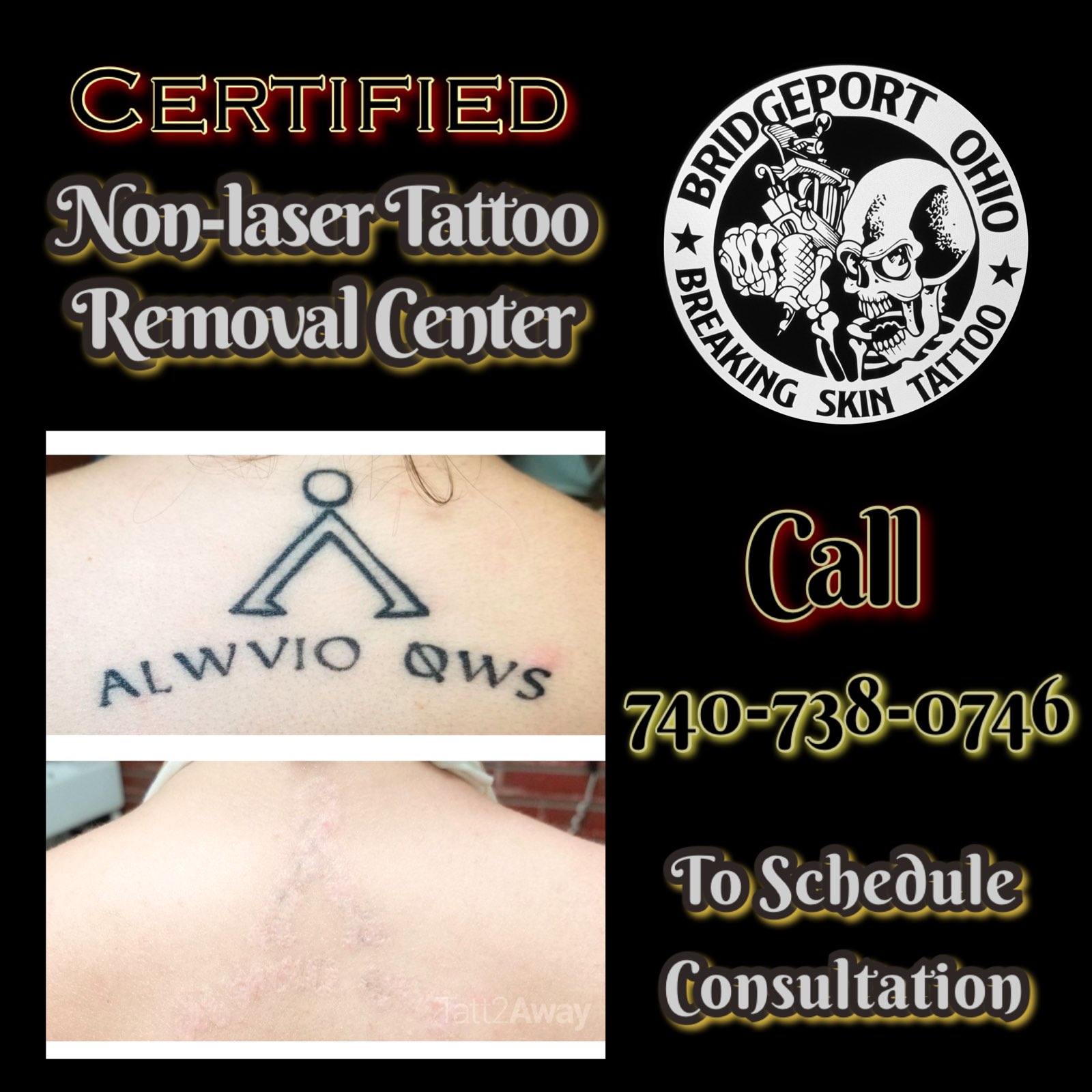 So, whatcha think? Is Tatt2Away right for you? It depends on what you want for your removal.

Tatt2Away gives you:

*An all-natural removal option

*A way to put lighter colors over dark without your old tattoo showing through.

*Freedom from the pain of laser removal

*A way to repair spelling and other mistakes

*Visible results after each session

*More affordable tattoo removal

*A way to update existing body art

So stop hiding that embarrassing tattoo! Schedule a consultation with our Tatt2Away Technician!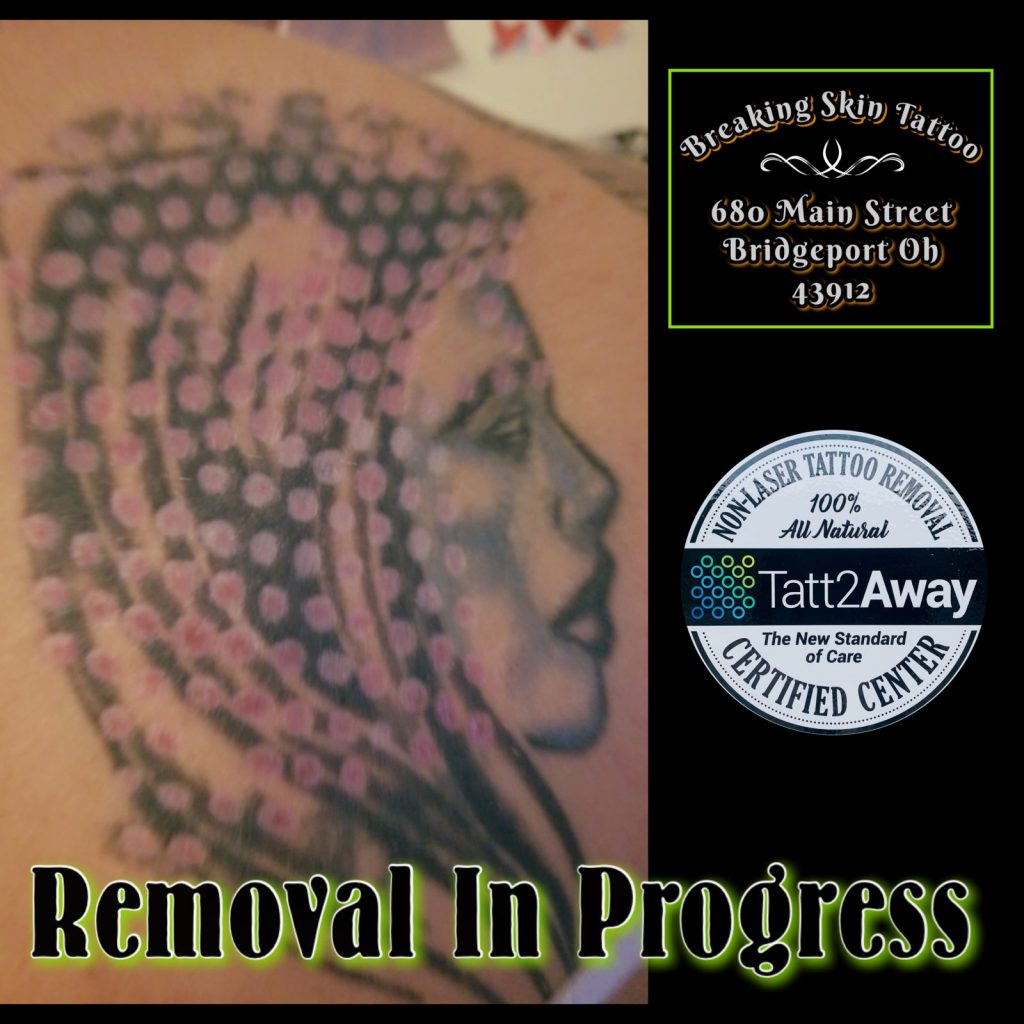 Why Choose Tatt2Away Natural Tattoo Removal?
Why better than laser?

*It removes all colors

*It has all natural ingredients

*You feel less discomfort

*You need fewer treatments

*Thousands of successful outcomes speak for themselves!
What's so wrong with laser removal?

Lasers:

*Struggle to removed stubborn colors

*Drive ink into the bloodstream and lymph nodes

*Require the liver to detoxify & expunge

*Laser removal is very painful

*Often require 10 or more treatments

*Are very costly over a long time period

*Damage the skin and make coverups harder

Many of Tatt2Away's team spent much of their career designing and marketing medical lasers. So why didn't they just build a better laser for removing ink?!